This guide was written by Floyd R Turbo on the Algae Scrubber forum

AlgaeScrubber Build Basics Summary

There are many options whenit comes to building your own scrubber. Hopefully this series ofposts will wrap up all the basic concepts as clearly and concisely aspossible. It seems that many people look at this concept and thinkthey can make some kind of major improvement, and post their idea.Then, a newbie can look at that and think that it makes great senseand mimic it, without understanding the pitfalls. I feel that it isimportant to understand the concept and purpose behind the basics,and why you should rarely deviate from them without fullyunderstanding the basic concepts first.

Most of the issuespeople encounter with their DIY builds can be directly attributed tomissing one or two of the basic principles. So consider this a "bestpractice" summary. That is, there are several ways to build ascrubber, but there is always a cheap and easy way, as well as themost effective and efficient way.

The Vertical WaterfallAlgae Scrubber

99% of this summary is dedicated to thebasic of designing and constructing a modern, vertical screen,waterfall-style Algae Scrubber, illuminated from both sides. This issimply because this design is currently by far the most efficient andeffective type of Algae Scrubber design, and the only one that Irecommend building. Mention is made of what considerations to makefor building a single-sided or horizontal scrubber.

Thevertical waterfall style algae scrubber is very efficient for acouple of reasons. The design allows you to illuminate the algae fromboth sides and place the lights very close, which reduces thedistance that light has to travel through water in order to reach thealgae. The water flow over the screen is relatively thin and movesfast; this is important, because algae requires turbulent flow inorder for nutrients to reach the cells on a microscopic level (thisis referred to as the "boundary layer"). Because of both ofthese factors, vertical scrubbers require less light and materialthan the older style horizontal scrubbers for equivalent filtrationcapacity.

The Slot Pipe, Screen, and Fasteners

Theprincipal component of the modern vertical waterfall Algae Scrubberis the slot pipe and plastic canvas screen. The screen is insertedinto a section of horizontal PVC pipe which has a slot cut into it.The screen is typically held in place with a fastener through acut-out section of the screen, likethis:





SlotPipe

The slot pipe itself should be Schedule 40 PVC at aminimum. Don't use vent pipe, flexible hose, or thin-walled PVC. Thereason is that cutting a slot in the tube weakens it enough that itcan bow over time and cause the slot to change width. This isespecially true for a wide, tall scrubber. Anything over 24"should probably have 2 slots, with a small section in the center leftuncut (maybe 1/4") with some kind of means of support at thecenter. It may look fine at first, but with heavy growth, you startto seethis: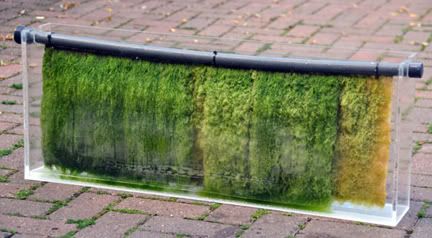 I'mnot saying that it won't work, and I'm not critiquing the designpictured above. It just got me thinking that it can't be good to havethat pipe flexing that much. So this is a recommendation I am makingfor scrubbers with screens over 24" wide. But check out thatgrowth!!! That's 6.5 pounds of algae (drained).

PipeDiameter

When running a scrubber fed directly from theoverflow, there is usually no need to deviate from the size of thedrain pipe that you currently use. But, that all depends on yourtotal resultant flow to the pipe, length of screen, etc. In themajority of cases, this doesn't change anything. However, if you hada large tank, and were combining 4 1" drain lines together tofeed one large scrubber, you have different considerations.

Ifyou're doing a pump fed scrubber, either top of tank or sump, try tomatch the size of the slot pipe and other PVC components to therecommendations from the pump manufacturer, and if in doubt, err onthe side of larger pipe. Larger pipe puts less head pressure on thepump, which will increase the flow rate.

Cutting theSlot

The width of the slot should be approximately 1/8"wide, the same length as the screen which you are using (as exact aspossible), and as straight as possible. Cutting a straight, evenwidth slot is arguably the most difficult part of building ascrubber. It is also one of the most important steps. If the slot iscrooked, the screen may not hang properly, and there may be areaswhere the flow is lighter and heavier. This can result in sections ofweak growth.

However you go about this, you might need a fewtries to get good at it. PVC is cheap, so practice on a small sectionso you get used to how this is done. It's going to take a little timeand patience – don't rush it. Mark the slot, and cut carefully. Ifyou mess up, do it again. Once you solvent weld an end cap and aunion to it, it is not as cheap to replace (but still relativelycheap).

Doing it right means using a power tool. Probably themost common tool for this use is a rotary tool, or a Dremel, using acutoffwheel: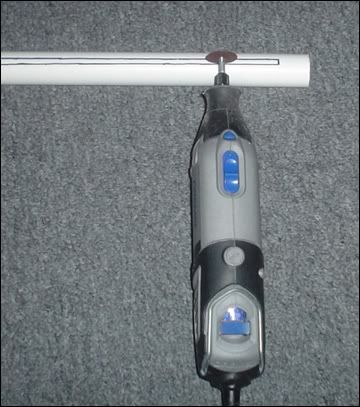 Veryrecently, someone reported great success by using an oscillatingtool. So if you're looking for a reason to add another tool to thearsenal, here's yourchance.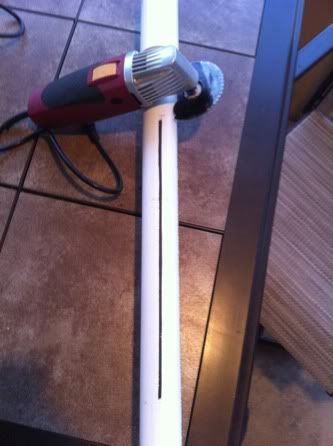 Anotheridea is to use a router. Since plastics are 'grabby', and plungerouting plastic takes extra grip and control, extra precautions apply- so this is not for the inexperienced, but it makes very straightslots. This method requires building a guide jig for the router, anda clamping system to keep the PVC firmly in place.

Reportedly,the best way to cut a perfectly slot straight is by using a tablesaw. However, there really is no way to cut a slot in the middle of asection of pipe (or across the whole length of the pipe) withoutremoving the anti-kickback device and lowering the pipe on to thespinning blade. You could also do it with a handheld circular saw,but like the router method, you would need a jig and clamp system,and you still are lowering a spinning blade onto the PVC (if you'recutting the slot in the middle and leaving the ends uncut). I havenever tried this and I do not recommend this method because it soundstoo dangerous.

However you decide to cut the slot in the pipe,remember to observe all necessary safety precautions. Either that, orhave someone else do it for you.

Screening Material

Thesearch for the "perfect material" for growing algae in thevertical waterfall configuration has always come back to the samematerial, the Clear #7 Mesh Plastic Canvas. This can be found atalmost any fabric (Jo-Ann Fabric) or craft-type hobby store(Michaels), usually in the knitting materials section. I have seen itat Wal-Mart, next to all the yarn. If you google "plasticcanvas" you'll find hundreds of links. You can feel free toexperiment, but this material has been proven to work over and overagain.

The reason that it works so well is because it ischeap, flexible, light, and easy to rough up. It is also translucent,which is critical. As algae grow thicker on a screen, the outer layerstarts to block light to the lower layers. This causes weakening ofthe algae at the point of adhesion to the screen material. Allowinglight to penetrate to the base of the screen from both sides helps toprevent the lower layers from weakening and detaching from thescreen. Any material that blocks light is fundamentally inferior, allother things being equal. This also means don't use any of thecolored screening materials that you will see.

A brand newscreen is slick and smooth. Except for the top edge of the screen, itneeds to be roughed up with a hole saw or a rasp so that the algaehas anchoring points. This is a critical step and it absolutely mustbe done properly. Once the screen is established, algae can grow verythick, it can hold a significant amount of water, and it will getheavy. I have seen pictures of screens that weigh several pounds.This weight is distributed across the screen, and with a rough base,it will hold very well.

To rough the screen up, you want touse a bi-metal hole saw. These saws have teeth that protrude out to asharp point, and are great for tearing up thescreen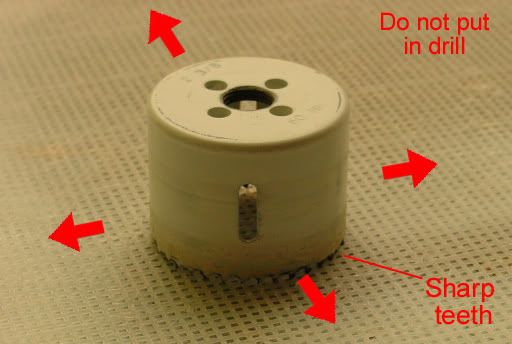 Asthe above picture shows, you need to drag is back and forth acrossthe screen. I suggest you sit in the garage or outside with a cuttingboard on your lap and lay the canvas on that. When you start roughingthe screen, do a lot of random movements. Don't concentrate on onespot for very long or you'll wear through the screen and tear it.Rotate the screen often. You can also tilt the saw bit as you drag itso that the teeth won't snag the screen. You should get a goodheaping tablespoon of plastic from each side of a 10x10screen.

After it's all done, your screen should look likethis: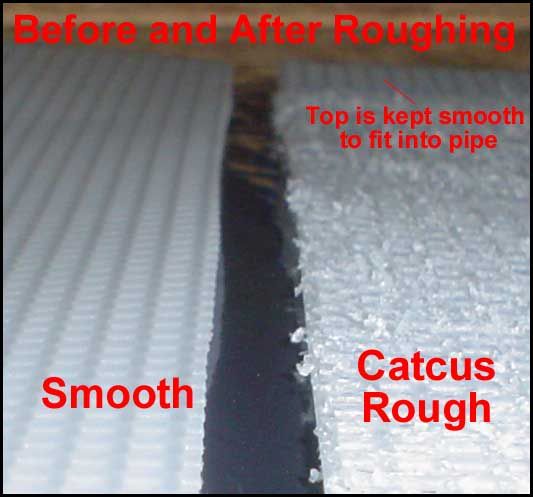 Givethe screen a good rinse and a light scrub with an old toothbrush toclear off all the pieces that are 'hanging by a string'. These piecesare inert plastic, but still, you don't really want these floatingaround in your aquarium.

Though I haven't used one myself, Ihave heard that a rasp (available at any hardware store) is alsogreat for roughing up this material. There are handheld rasps(similar to a Ped-Egg for your feet, except much sharper), and thereare bit-mounted rasps (for power drills). It looks like it could be alittle easier to tear the screen with this tool, but there is muchless elbow grease involved. The drill bit rasps I have seen don'tappear to have protrusions large enough to "dig" into thescreen and result in a cactus-rough surface.

Some have triedother methods of roughing up the screen. 80 grit sandpaper willdefinitely rough up the screen, but it doesn't leave it 'prickly', soit's not very effective. Recently, someone put a screen in the ovenfor a few minutes, then sprinkled it with aragonite sand and pressedit on; this blocks the light from penetrating to the base from bothsides, but it's still a cool idea, so time will tell on thatone.

The bottom line here is that there really is no shortcut.You only have to rough up the screen once, so stick to the tried andtrue method, unless you feel like experimenting on your aquarium.

Aspreviously mentioned, the top edge of the screen (where it isinserted into the slot pipe) should not be roughed up at all, or elsealgae can easily grow into the slot and restrict the flow. The amountof material you leave smooth depends on your design, mainly, how faryou plan on inserting the screen into the slot pipe. Regardless ofthis measurement, the smooth section should extend at least 1/8"down below the slot.

I repeated get questioned about the riskof the slot clogging with algae and overflowing your tank. Instead ofaddressing this concern here, this will be addressed in Part 2 (whichI again promise to get done soon).

Fasteners

Mostpeople use zip-ties to secure the screen to the slot pipe, since theyare cheap and easy to use. Generally you have to use new ones eachtime you clean the screen (because you have to cut them), or you canre-use them if you're handy with the tip of a razor blade and can getthem to release.

You can also use releasable zip ties (I foundthem in the electrical section of Home Depot), but they're not aseasy to release as you would think they would be, unfortunately. Iuse them, and I still need a mini-screwdriver to take themoff.

Velcro straps can also be used, however they need to befree of adhesives, and I have never been able to get an answer frommanufacturers about the stuff that has hooks on one side and loops onthe other (such as OneWrap) regarding their safeness in aquaria."Medical Grade" would be the safe way to go, but I haven'tlooked much into those.

The latest one brought to my attentionis the nylon beaded cable tie, which, like the zip-tie, is inert, butsuper-easy to release, so it's good for months and possiblyyears.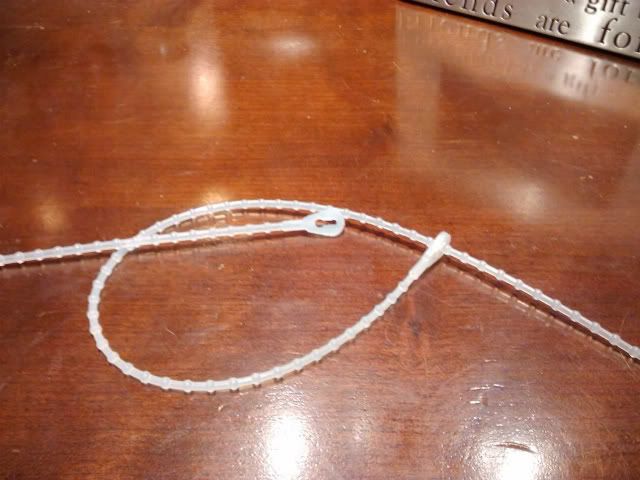 Theonly drawback I can see it that you can't cinch them downsuper-tight, but this doesn't matter unless you hold the screen inplace at the center only with the screen inserted all the way intothe tube. Most people hold the screen in with one tie at each end,and maybe one in the middle, so this is less of an issue.

Anothermethod of holding the screen in place is to use plastic showercurtain rings. It works very well, however you should have extras onhand in case one breaks when you're removing it.

Yet anotheris to use sections of PVC pipe, one size larger that the slot tube,to make rotatable rings. This works very well, just make them narrowso that they don't block too muchflow.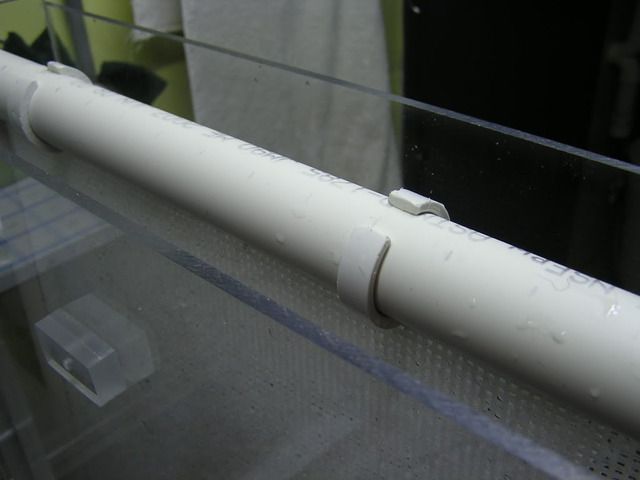 I'veseen a few designs that don't use fasteners, but there areconsiderations to make with these designs. I decided to discuss theseissues in Part 2.

Preventing water creep along thepipe

This is an important part of the slot pipe design.The issue here is that when you are running water though a horizontalpipe with a slot in the bottom of it, the water has a tendency tocreep along the bottom edge of the pipe, not matter how perfectlyhorizontal you install it. If your scrubber is positioned completelyover your sump, this may not be a big issue, as any errant flow willjust drip into the sump. If your pipe ends extend close to the edgeof the sump however, a steady trickle of water can result in gallonsof water on the floor. I can attest to this.

The solution isvery simple. Right at the point where the slot ends, place a largeplumbing gasket, such as an o-ring (use several, they're cheap), oreven a bulkhead gasket. The point is that it needs to prevent waterfrom getting past it. I can tell you from experience that a standardzip-tie will not work – the profile is too low.

In manycases, you need to put this piece on the pipe before you weld the capon the end of the pipe, or else it will be very difficult to install.This one is a ballcock washer, and definitely needs to be installedbefore the cap isinstalled: